Pea Soup - Traditional Swedish Yellow Pea Soup
This is real historic cooking! There are documented recipes for pea soup ranging back to the Swedish Middle Ages. When preparing the soup you can choose if you want to have an elegant consommé styled dish with whole peas, or if you'd rather like a thick, stew style soup. It's slightly more work making the consommé style. And care has to be taken to not overcook the peas.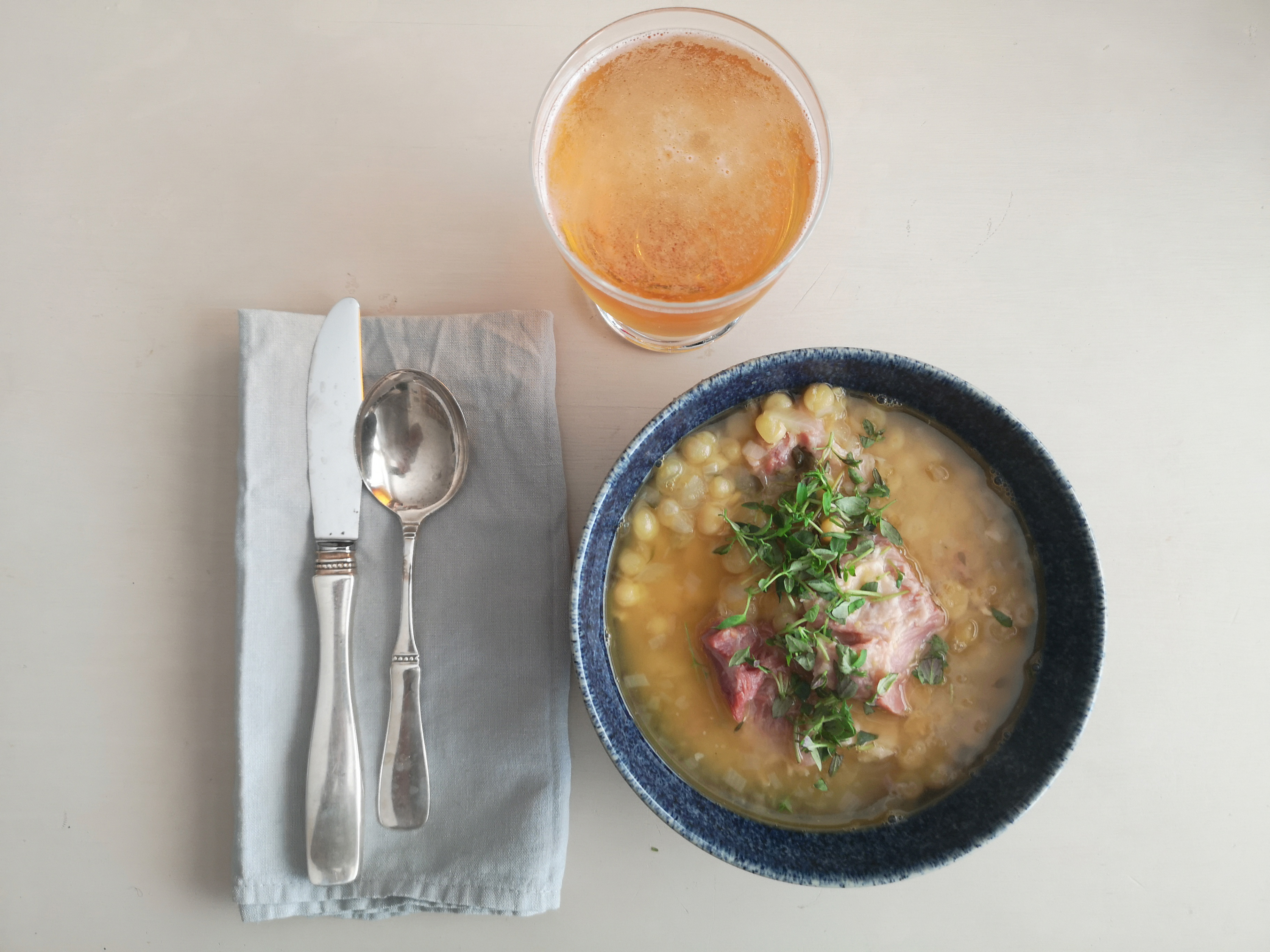 Serves 4
500g dried yellow peas (about 6dl)
250g onions (about 2 of medium size), finely chopped
2 cloves garlic, finely chopped
30g butter
30g fresh ginger (about 2 tablespoons), minced
1 leg of pork, salted. If you're using a boned leg you can cut it into 3x3cm pieces. Otherwise cut into two pieces at the knee joint
10g salt or to taste
3 cloves, whole
2 tsp black pepper, ground
2 tsp thyme, dried
2 tsp marjoram, dried
Fresh thyme for presentation (optional)
Mustard for serving.
Directions
Soak the dried pies in water for 12-24h.
Rinse well in fresh water.
Fry the onions and the garlic in the butter on low-to-medium heat in a heavy pan until it has gone soft but is still without color.
Add the ginger and fry for another minute.
Trim the rind from the pork. Cut the leg of pork into two pieces at the knee joint.
Add the pork, the peas, the salt, the spices and fresh water to cover.
Put the lid on and let simmer at low heat until the pork is tender and falls apart nicely. Se below for cooking times.
Remove the cloves.
Take the pork out of the pan.
Trim the bones and the fat that is still hard or rubbery from the meat on the pork leg.
Cut or pull the meat into bit size pieces.
Put the pork meat back into the soup.
Garnish the soup with fresh thyme (optional).
Serve with mustard.
Cooking time
Consommé style
The peas will be ready in 1h - 1h 30min. They're ready when they're soft but don't fall apart. Remove any pea husks floating in the broth.
Stowage style
The cooking time here isn't important, as long as it's long enough for the peas to be cooked to a mush. In a pressure cooker this will take 1h 40min. In a regular pan it will take about 2h 30min.